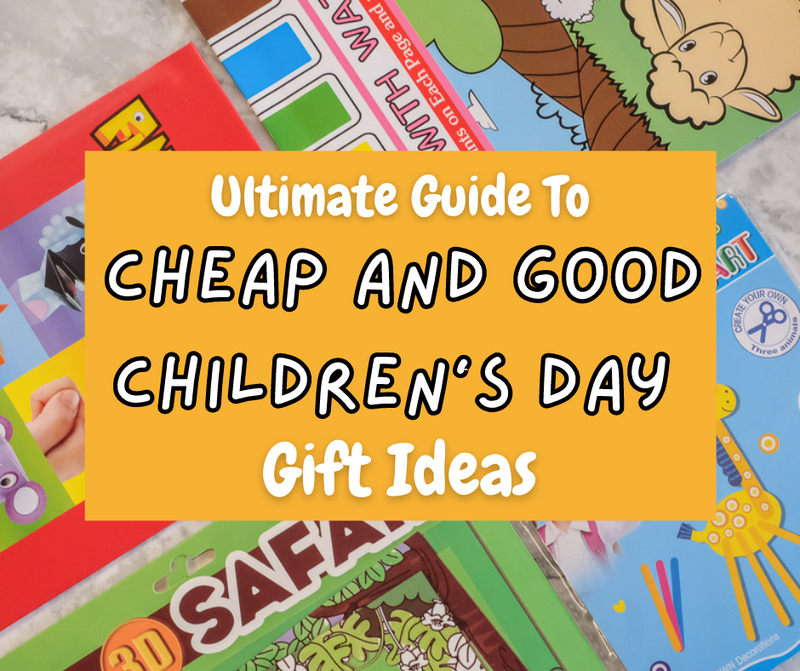 23 Cheap Children's Day Gift Ideas From $1
In Singapore, Children's Day is celebrated on the first Friday of October, and this year it will fall on the 7th of October. This is a time when both parents and teachers alike will be looking for a special little gift for the special ones in their lives. Learn more about how Children's Day is being celebrated around the world and in Singapore.
At onedollaronly.com.sg, we have been delighting children with gifts since 2011. This year, we have compiled a list of cheap Children's Day Gift ideas that are $1 or less, to help you choose from more than 500 products we have on our website! View our new customized catalogue to see our full collection.
Personalised Children's Day Gift
We also do name personalization, where you can imprint your recipient's name on to your selected Children's Day Gift! Great for teachers or parents getting a gift for their class.
To start off, let's talk about our best sellers for Childrens Day gift.
For just $2.30, your students will get 3 items - Skipping rope, chapteh and a rubber ball. This sports set can encourage the kids to get active and at the same time, get in touch with the traditional games we used to play.
Tangram has many benefits for the young ones, like improving their fine motor skills and introducing mathematical concepts to them. This is a fun educational toy for your Children's Day Gift.
The compact and sturdy design allows you to bring it anywhere you want - be it a picnic or to recess.
Another fun educational toy for the kids to play with! Twist and turn to form different shapes. Available in 4 different vibrant colours.
This pencil case design is definitely popular due to the fun and vibrant motif. Don't undermine the size of this case as it can hold multiple stationery.
This case reminds me of popsicles! Super trendy and fun design as it fuses between minimalist style and bright colours.
One of the all-time favourite for customization. Imprint your school logo or artwork to add a special touch. Many of our clients love to print a special message for their recipients on this pencil case!
From our in-house special line, this transparent case is made out of strong and durable material. It is no doubt thicker than most of the plastic cases you will find outside.
Secure your books and stationery together with this handy book band case. It comes with a pouch that can double up as your pencil case.
This set of stationery comes with a 1 pen, 1 mechanical pencil, stapler set and ruler that are encased in a clear case.
If you are looking for a sleek-looking gift, this is definitely an item that will be a bang for your buck! Many of our clients love to put an artwork on the external casing.
7 items for $1.50? This cute stationery set is a must-get if you are looking for Children's Day gift for preschoolers.
We pride ourselves in being the only supplier in Singapore that carries stationery sets at such an affordable price. Read more on our all time best sellers where we go in depth on why and how we developed those hero products.
You can learn more about our range of stationery set from this quick read!
From our extensive selection of pens, we have a few that has been repeatedly purchased by many of our customers. Check out our top selling multi-coloured pens like the 4 Colour Flamingo Design Pen, 8 Colour Unicorn Pen and Keep Calm Motif 8 Colour Pen.
Or if you prefer the single-coloured cute pens, you can check out Cute Dinosaur Gel Pen and Planet Design Gel Pen.
Notebooks are a useful and thoughtful Children's Day gift for students as they can use it for their note taking. We have simple or fanciful bright design ones and some can be customized with logo printing.
Simple, minimalist notebooks: A5 Notepad with 2 compartment sleeves, Premium PU Notebook and Ring Bound Recycled Notebook.
Design notebooks: Spiral Bound Graphic Design Motif Notebook with Pen, Cartoon Bear Notebook and Cartoon Animal Mini Coil Notebook.
One of our most popular sellers for Children's Day gifts. Each colouring card set comes with 8 different art template to fill in. Inspire the kids to improve their story telling skills by swapping the order of the cards to create different scenes!
Another great story telling tool for teachers, parents and kids to use! Preschool teachers especially will love this as it can help to engage their students more during lessons.
3) DIY Colouring Drawstring Bag
Functional and creative gifts are always a great Children's Day gift idea! Get our popular DIY Colouring Drawstring Bag for only $1.50!
Frame up your memories with this DIY kid's picture frame! Check out Wooden Photo Frame and 10pc Cardboard Photo Frame if you are looking for more picture frames.
Other popular DIY Art & Craft items are DIY Colouring Kite, DIY Tote Bag (Unicorn or Cartoon design) and 12 pc Wooden Paper Clips.
Colouring materials are a great way of beautifying your notes. Some of our popular colouring materials are Neon Gel Pen 6pc Set, 6-Colour Glitter Pen Set and 12 Colour Magic Pen Set.
Get our Coloured Pencils and Amazing Animal and Plant Colouring Books and gift it as a set, the perfect Children's Day Gift for preschoolers!
Files and folders are an essential for students. Keep the loose sheets organized and prevent crumpling them with our wide range of files. Some of our popular folders are 4 Compartment Plastic Folder, Unicorn Floral Design Clipboard, Floral Design Quote Clipboard.
Buying for a group of students or kids? We have beautiful designs that are sold in a pack of 12. Check out Cartoon Animal A4 Snap Button Folders, Fruit Theme Snap Button Folders and Cartoon Sea Creature Button Folders.
Another functional Childrens Day gift idea are bags as it can act as a carrier for all the other gifts that they will be getting. Customize your bags with logo printing or a Children's Day message to make them special! Here are a few of our best selling bags for customization.
Other popular bags are Translucent Mesh Tote Bag, Premium Quality Nylon Foldable Shoe Bag and Premium Quality Nylon Drawstring Activity Bag.
We also have paper bags that can be customized, in small and medium size.
So those are our top sellers for Children's Day gifts. But keep on reading to see what cheap Children's Day gift we recommend!
Traditionally made from scraps of leftover cloth and filled with beans, five stones is one of the best children's day gift. This is a game of hand eye co-ordination and agility. Comes with a drawstring organza bag for keeping it tidy! To find out more about the history behind Five Stone, read our Good Old Days blog!
Yet another blast from the past, wooden pick up sticks are an iconic traditional game. Authentic real wood sticks in a wooden box - just like it used to be. Originally thought to have originated in Europe this game has found its way all over the world. Instructions are included.
Who can forget the scene of children in uniforms playing chapteh and hopscotch in the schoolyard during recess time? This game is thought to have originated in the Han dynasty more than 2000 years ago - and is still being played all over the world today! Made from genuine feather for better performance, this is the real deal that comes with a box to keep those feathers nice and firm. A must have for the active kids as their Children's Day Gifts.
A great choice for a cheap children's day gift at only 50 cents! A childhood staple and a formula for hours of non-stop outdoor fun. Throw them right and watch as they make a loop to fly right back to you!
An all-time favourite. Share the wonder of flight with a simple kite - comes with everything you need to get started - just add wind. Rip resistant nylon makes it durable for those crash landings we might have!
It's a fan, and it's a frisbee. Both great for an outdoor day! Lighter and safer than traditional frisbees. Give it a twist and it collapses into a compact form that fits in the small carrying pouch. Keep this handy in a bag for those sweltering school days!
Everyone needs one, and everyone should have one! Feel the summer vibes with this flamingo themed notebook with 4 different thematic designs available. Comes in a compact A5 size with lined internal pages for writing or just doodling.
The perfect cute children's day gift with animal galore! The mini design makes it even more adorable. A thick pad of sticky notes for scribbling or just decorating. We have tons of cute sticky notes that you can choose from for your Children's Day present.
What looks like an ice cream is actually a 30cm x 30cm hand towel! Make it part of a gift or goodie bag or simply as a reward or treat. An interesting novelty gift that literally unfurls before your eyes!
Keep those worksheets organized with this animal themed button folders that come in 3 cute designs and in a pack of 12! Suitable for A4 documents. Functional and cute Childrens Day Gift idea!
This A5 PVC case comes with a cool matte translucent surface with dinosaurs that are irresistibly cute. Use it as a pencil case or multi-purpose case.
This easy to use bag / luggage tag is perfect for labelling schoolbags with the child's name and details. Simply loop it through and it's done. No need to fumble with tiny clasp or eyelets. The bright colours and fun design make it visible from a distance.
Don't be stressed! This squishy fruit keychain is a fun addition to pencil cases or bag zippers. Available in a variety of different fruits like orange, watermelon and strawberry so pick your favourite!
This one of the most popular and practical children's day gift ideas. Every child needs one of these! 12 full length colour pencils to draw, colour and doodle to their heart's content. A popular choice as Childrens Day gift for preschoolers!
Now for some food themed cuteness! Gel tipped pens that make for smooth and easy writing suitable for upper primary children. These topped with donuts - with sprinkles to boot. A fun addition to any child's collection.
This mechanical pencil with thick lead core is great for preventing frequent breakages but also saves the hassle of sharpening traditional wooden pencils. We love the cute animal motifs on each of these mechanical pencils too!
Time for some arts and crafts! Make your own hand puppet with this great D.I.Y Children's day gift craft kit. Made of felt material , this kit come with everything you need - safety plastic needle, thread and all the stickers and materials included. Indulge in hours of art and craft fun!
Hand crafted wooden bookmarks with cute designs make this one of the all-time favourite children's day gift on our store. Use them as a bookmark or for holding pieces of paper together.
Who says that wooden pencils have to be boring? A practical yet fun children's day gift idea for preschoolers. Brighten up the day with fun cartoon wooden pencils with bobbing figurines!
20. Universal Bottle Holder with Carabiner - $1.00
The perfect practical gift. The clip fits to necks of nearly all plastic bottles - from small ones to the large 1.5 litre ones. Attach to bags or handles with a handy carabiner with a working compass! For all the budding adventurers and explorers out there!
Need more Children's Day gift ideas? Read the other guide for 22 Cheap Children's Day Gift.
What is the best gift for Children's Day?
A thoughtful gift beats anything in the world. Mix and match some of our $1 Children's Day gift ideas and package them up into a gift bag and you're good to go! OneDollarOnly has a wide range of over 300 products that are great for Childrens Day gifts in Singapore. You can also make personalized Children's Day gift with our printing service!
How do you make Children's Day special? Get customized Children's Day gifts!
OneDollarOnly does customised Children's Day gifts in Singapore that allows you to imprint your artwork or logo on them! From small to large scale events, we cover them all! Speak to our friendly team now for any enquiries.
Where to buy wholesale Children's Day gifts in Singapore?
With a low minimum order of 5 pieces, we cater to both wholesale and retail orders! First time doing bulk/ wholesale buying? Read our Wholesale Buying Guide here where we break down the steps on ordering and some of our recommendations for corporate gifts.