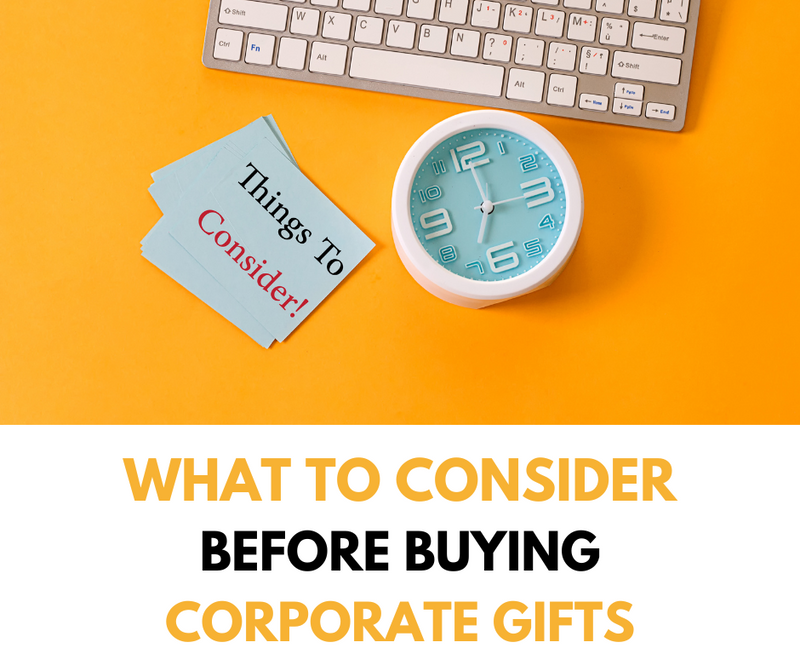 Corporate Gifts: What to Consider Before Buying
Whether you're presenting your first pitch or saying thanks to your top suppliers, we all want to be memorable. We pull out all the stops and put our best foot forward for those we want to impress. There are many reasons on why people buy corporate gifts.
For many companies, giving a gift is a surefire way to leave a lasting impression. There are many occasions to give out corporate gifts - after company events, as marketing efforts, or even as a Christmas gift. Not only are these keepsakes functional in one's work or daily life, but they also drive name recall, too - which helps you stand out in the minds of your customers long after your event.
But how do you go about choosing the right corporate gift? It all boils down to the right supplier. We narrow down the top four factors to help you decide who best to execute your corporate gift ideas, and include some tips along the way.
How to choose your corporate gift supplier?
Know your budget - and find one that meets it
The most practical way to shop for a corporate gift is working within your means. Narrow down your gift choices among those you can afford - this helps you focus your expectations on which gift options are possible before searching for suppliers that provide the most value for money. 
Tip: It's easier to start with a small budget then work your way up if budget permits. And before you think about it - stick to your budget! There are suppliers such as One Dollar Only who can keep up with multiple price considerations - from premium items to standard items as low as 1 SGD per piece.
Look into your supplier's range of products
Most times, we don't know what we want until we've shopped around. Save yourself the hassle of checking across suppliers and find one that offers a variety of options under one roof. 
Tip: Widen your choices and explore suppliers which carry items across multiple segments. One Dollar Only supplies goods from apparel like customized cap in Singapore, electronics, and everything in between. Check out their range of cheap corporate gifts under $2!
Assess your corporate gift supplier lead time and stock availability
You never know when a gift-giving occasion will strike. And if you know the pains of last-minute shopping for your friends, imagine that headache multiplied tenfold for corporate gifts! The right supplier would bring the right door gift ideas to your door right when you need it. You can count on them to be quick and thorough in creating your gifts while you're hard at work doing everything else. 
Tip: Suppliers with local stocks are the way to go for rush requirements. One Dollar Only features Singapore corporate gifts which are local stocks, easily delivered anywhere in the island within 5-7 working days.
Check if your corporate gift supplier can personalize
Personalised gifts are one of the best ways to make your gifts special. Make your door gifts personal by printing their name on the item or placing your company's name front and center. You can even go the extra mile and create a fully customized gift. People are more likely to notice what stands out from the crowd, so your efforts won't go to waste!
Tip: Make sure your supplier has the technical capabilities to keep up with the type of customization you need, as different materials require different types of printing. One Dollar Only features single and full color printing, laser engraving, embroidery, among others. You can have custom-made bags and cases made here as well.
Unsure about the different printing methods used when creating corporate gifts? Check our full guide on Printing Methods Explained!
Where to buy corporate gifts in Singapore?
For any budget or lead time, you can count on One Dollar Only to deliver personalized gifts Singaporeans will love. Find your perfect gift from its comprehensive range of corporate gifts for children and adults alike, and turn them into meaningful gifts through their various customization options. 
With One Dollar Only, corporate gifts in Singapore have never been better!
Discover more Corporate Gift ideas like custom lunch box, Graduation bears or Cheap Corporate Gift under $2.