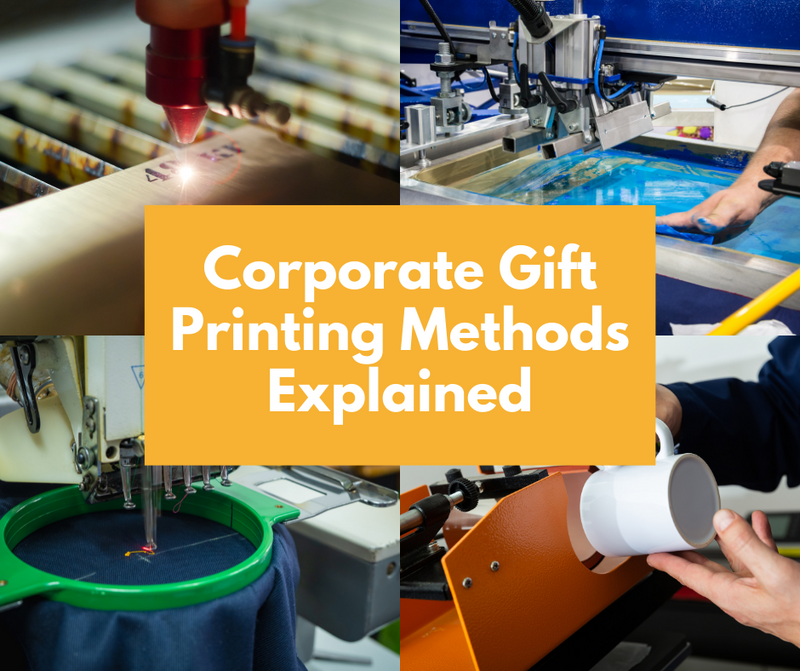 Corporate Gift Printing Methods Explained
As businesses get increasingly competitive, it's no longer enough to simply offer products and services and market them online to become the number one in the industry. Companies have to find unique means to stand out from the competition. One of the best ways to do this is by giving corporate gifts.
Looking for door gift ideas? Check out our Corporate Gifts collection! You can also check out our Guide To Cheap Corporate Gift for more corporate gift ideas!
What Are the Benefits of Corporate Gifting? 
For employees and customers, receiving a gift is a wonderful experience. It creates a sense of connection from the company to the receiver.
When used as a marketing tactic, corporate gifting can offer these benefits:
Entice leads/prospects
Boost brand awareness
Enhance brand image
Generate more leads
Improve customer retention
Strengthen the connection between customers or clients and the company
Show appreciation to customers or employees
Nurture existing business relationships
Express gratitude to loyal customers or clients
Basically, corporate gifting is a more thoughtful act of saying "I care" and "Thank you" to customers and employees. There are many occasions where companies can hand out personalised gifts such as celebrating special occasions, corporate events, and professional milestones. Curate your customised gifts into a gift box for your recipients!
What Are the Different Corporate Gift Printing Methods?
Door gifts are a worthwhile investment for any business. However, not all are created equal. They differ in quality, depending on the corporate gift supplier and how they were made.
This is where printing comes in. This is a crucial process in making corporate gifts.
That said, choosing the right printing method is important. Knowing the different printing processes is a great way to help ensure that the logo is shown in the best way possible.
At OneDollarOnly, we use the following printing methods to create high-quality corporate gifts. Read on to help you better understand the processes involved in creating these items and determine the ideal one that suits your needs:
Screen/Silkscreen Printing
Screen or silkscreen printing, the most popular printing method, involves transferring a screen printing ink to different surfaces and materials. It uses a porous mesh screen with an ink-blocking stencil to transfer the design.
This printing method is beneficial for bulk orders. Besides having a simple printing process, it produces durable print designs. It resists even the toughest washes. Plus, it is ideal for all colours of clothing and different materials.
Silkscreen printing is best for printing logos with 1-2 solid colours without gradients. Choose this method if you need to create custom designs for different types of t-shirts, jackets, hats, caps, water bottles, mugs, notebooks, or bags.
Laser Engraving
If you need long-lasting logo printing that doesn't break the bank, then laser engraving may be the best printing method for your needs. It engraves the logo or image onto the material by burning the surface and giving it a 3D effect.
This printing method is precise, fast, and versatile. It is also ideal for metal or wooden objects that require single-tone logos.
Heat Transfer/Thermal Transfer
Heat or thermal transfer is one of the most common textile or shirt printing methods. It involves heat and pressure. Additionally, it requires printing the image backwards on heat transfer paper/ plastic to make the logo stick better and last longer.
This printing work is best for complex designs or colourful logos that need heat-pressed single or full-colour printing. It is also ideal for heat-resistant fabrics and surfaces.
Digital Direct Printing
Digital direct printing is one of the most advanced logo printing processes. It uses UV light for curing to let the ink quickly stick to the surface.
This printing method is used for full-colour garment printing directly from a computer image file onto flat, non-porous surfaces. These include cotton t-shirts, canvas bags, hats, and more. So if you're planning to create custom clothing for your customers and employees, direct printing may be best for you.
Embroidery
This corporate gift printing method sews colourful threads into the cloth using a computer-controlled machine. The threads are layered up to create an image. This creates a 3D texture for the logo and makes the product washable and durable.
Embroidery is ideal for single and multi-colour logos on fabric. It is commonly used to make professional uniforms, corporate giveaways, or promotional items.
This printing technique is usually considered a type of t-shirt printing method. However, it can also be done on jackets, caps, hats, towels, bags and other garments.
Embossing/Debossing
Embossing pushes a metal die into the chosen material to create a 3D effect that emphasises the design. This printing method helps create raised effects on different materials, like cloth, leather, acrylic, wood, and metal.
On the other hand, debossing produces a depressed effect on the surface by making an indent in the material. It uses a metal die to stamp and leave an imprint on the logo or image.
Both embossing and debossing are ideal for printing the logo or any customised image onto a product. They are best for imprinting single-tone logos on leather products, such as keychains and notebooks.
Where to Buy Corporate Gifts in Singapore?
Whether you prioritise boosting employee morale, improving customer relationships, or raising brand awareness, giving personalised gifts to your employees and customers is a great way to achieve your business goal.
To get started in corporate gifting, look for corporate gift ideas and find the right printing method depending on your budget and chosen material. Most importantly, partner with the right corporate gift supplier for your needs.
If you need personalised gifts in Singapore, you can count on us! We are OneDollarOnly, a supplier that companies and schools have trusted for 25 years. We have over 1,000 corporate gifts, and 300 of them are under $2 and local stock! We also supply corporate gifts for children, especially during events like Children's Day and National Day!
Here are the categories to choose from:
What are you waiting for? Order now for high-quality personalised gifts in Singapore! Items are available for logo printing, bulk buy, or customisation.
First time buying door gifts? Find out what are the things to consider before buying corporate gifts.
Discover more Corporate Gift ideas like custom lunch box and Graduation bears.