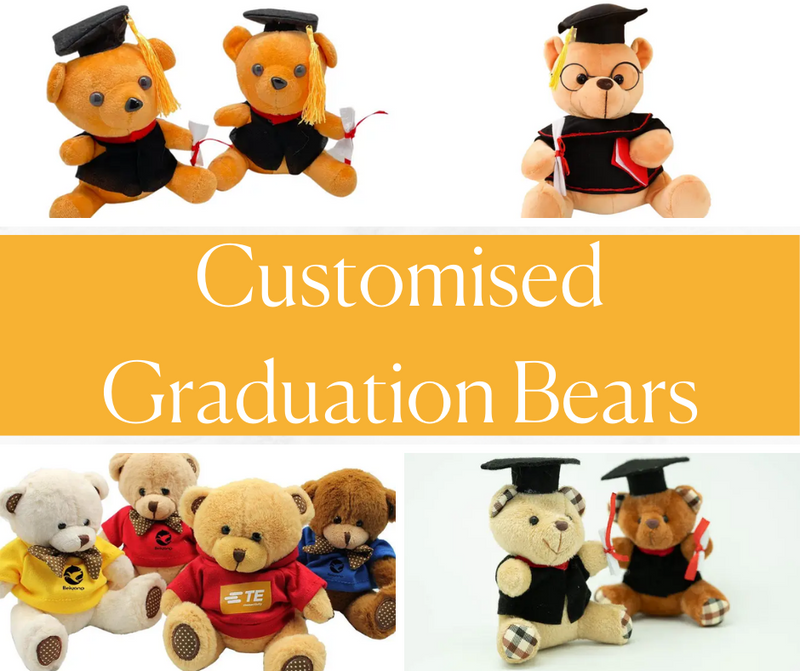 9 Graduation Bears That Serve as Meaningful Graduation Gifts
Graduation is an important milestone for any student. It marks their determination to achieve academic success and their willingness to grow and move forward. It also shows that they're now ready to face new and exciting challenges.
On this special day, one of the best gifts you could give to graduating students is a graduation bear customised just for them. Grad bears are one of the classic graduation gifts that friends and family would get their graduate. Here are the reasons why this plush toy could be the ultimate 2022 grad gift:
It is customisable, making the graduation gift more meaningful
It is a cute keepsake
It can preserve memories and remind your child of their fun, youthful days at school once they grow up
It can remind your child of their achievements
It can become a snuggly bedtime companion for children and children at heart
It can serve as a house decor
It can be a sentimental promotional item during school or corporate events
It can show that you're proud of your child's achievements
1. Large Graduation Bear (18 cm) 
This graduation teddy bear comes in 18cm when seated, which is the perfect huggable size. Whether you're a student looking for a present that would make your friend remember you years after graduation, a teacher wanting to hand a thoughtful grad gift to students, or a company owner needing meaningful corporate gifts, you can be sure that this plush toy fits your needs!
This small teddy bear is designed with a graduation hat and a diploma scroll in its hand. It is 10cm tall when seated. Also, it comes in assorted colours, suiting any preference.
This 18cm-tall graduation teddy bear comes in light brown. Since the plush toy wears eyeglasses, it would be the perfect gift for spectacles wearing graduates!
4. Graduation Bear in 4 Colours (23cm)
This teddy bear comes in four sizes (18cm, 23cm, 28cm, and 35cm) and four colours (light brown, dark brown, white, and pink). What's more, its graduation gowns can be customised with any logo or message!
5. Light Brown Graduation Soft Bear
If you're looking for a new bedtime companion for your little one, then this 10cm-tall light brown graduation teddy bear may be what you need. It has an extra texture that makes it cuddly.
6. 16cm Teddy Bear Plush Toy With T-Shirt and Checkered Ribbon
Show your appreciation to your batchmate or student by handing them a personalised gift like this 16cm-tall teddy bear. This plush toy wears a t-shirt in different colours, which means it can suit any preference or brand colour. The bear's t-shirt can be printed with any logo, too!
7. 16cm Teddy Bear Plush Toy With Knitted Scarf
Get your child or student a personalised graduation teddy bear to express how much you care about them and their academic achievement. This 16cm-tall stuffed toy wears a knitted scarf and a t-shirt, which can be customised with any school logo, company logo, or artwork.
Congratulate your graduates with this adorable 16cm-tall graduation teddy bear. This plush toy is designed with a brown polka dot bow and a t-shirt that can be personalised with any logo or artwork. It can be an interesting graduation photo prop, a unique home decor, or a snuggly bedtime companion.
9. 16cm Colourful Knitted Teddy Bear Plush Toy
This 16cm-tall knitted teddy bear comes in assorted colours. For this reason, it's perfect for teachers and employees looking for a certain plush toy in a colour that matches their school or company branding colour. Also, this wears a customisable t-shirt and a blue or brown ribbon.
Graduation bears are a symbol of the joy of graduation. These graduation gifts express pride and acknowledge the graduating students' hard work. Plus, they are delicately crafted with soft materials to ensure they offer comfort and are perfect for hugging. In short, they can be a pillow or a companion doll.
If you're worried that this graduation gift wouldn't be age-appropriate for adults, the truth is that no one is really old for stuffed toys. No matter the age, teddy bears can promote imagination, emotional well-being, and restful sleep.
Need more inspiration for Graduation Gifts? Read our Best Graduation Gift On A Budget.
Personalized Graduation Teddy Bear
OneDollarOnly does personalised gifts in Singapore. We offer low personalisation fee and low minimum order quantity from 20pc. Check out our full range of personalised gifts in our catalogue.
Where To Buy Graduation Bear Singapore
That said, if you're looking for the perfect graduation gift for the class of 2022, then you've come to the right place. We are OneDollarOnly, a trusted supplier of schools and companies for 25 years. We offer customized graduation bear in Singapore for bulk purchases that start at as low as $2!
Turn to us for graduation bear wholesale in Singapore with logo printing or customisation. Additionally, we have over 500 local stock products with prices as low as $0.50. Best of all, the items will be delivered right to your doorstep in as fast as 3-5 days!