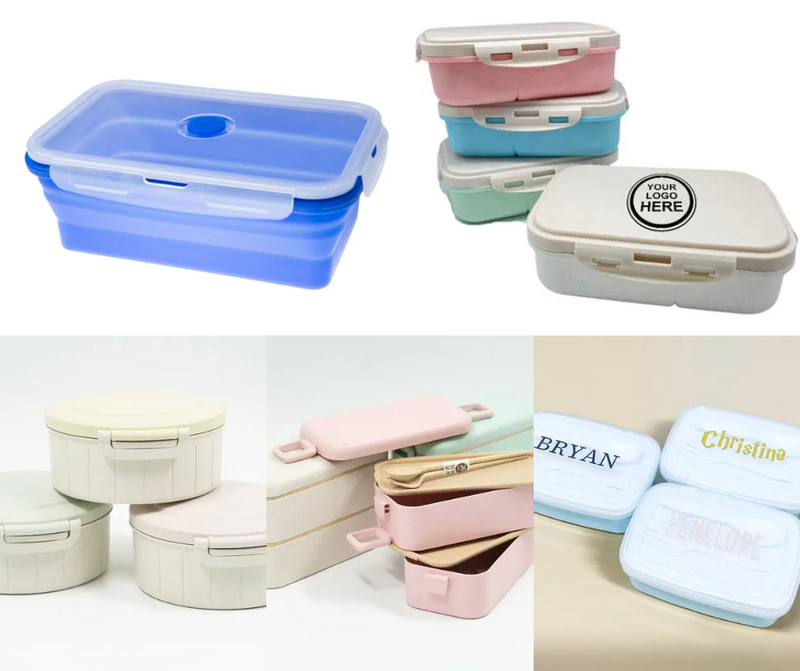 Custom Lunch Box Gift Ideas In Singapore
A long day spent studying or working can leave anyone drained. No matter where you are, nothing beats having a power-packed lunch or a quick snack on the ready as a much-needed pick-me-up. They are also a popular corporate gift options due to its practicality.
Lunch boxes have progressed beyond kindergarten, gaining ground even among practical employees in the workplace. With a variety of sleek designs and value-added features, these unassuming containers can offer more in your daily routine:
More options:

 

Bring your favorite foods away from home safely and securely. A custom lunch box also means varying sizes are available - pick and choose which size works for you.
 
More healthy: While what you put in the lunch box is entirely up to you, a secure lunch box opens doors for healthier snacks that would be inconvenient to bring otherwise, like cut-up fruits or single-serve granola from home. Moreover, a lunch box's standard container size can also help in driving portion control and variety for balanced meals.
 
More cost-efficient: Eating out may be fun, but it is not cheap. Bringing a lunch box in Singapore is an excellent hack to cut meal costs by bringing your prepared meals from home to school or work.
Lunch Boxes Made Fun With Customization
If you're thinking that a lunch box isn't cool, think again. Break the "boring lunchbox" stigma and make an ordinary lunch box cut through the clutter through quick and easily replicable customization options.
For corporate clients, placing your company logos on lunch boxes as unique corporate gifts can easily promote your branding to a wide market. Also, personalised gifts in Singapore are a hit among those looking to turn affordable gift ideas into meaningful ones.
A Lunch Box For Everyone
The lunch box gift market is everywhere - from custom corporate gifts to marketing campaign promotional gifts from your favorite brands. With so many options, how do you choose the best kind of lunch box for your clientele?
For the food lovers: The Full Meal Lunch Box
Whether you're gifting to classes of growing kids or groups of food enthusiasts, these multi-compartment lunch boxes can pack a meal good for any kind of appetite.
This dual compartment lunch box saves on space but not on food portions, with snap locks to make sure nothing comes tumbling. For those looking to nix the lunch bag, some lunch boxes come with handles, too.
If you want to take the all-around gift proposition up a notch, go for this lunch box with a cutlery case to boot, or this lunch box that places divided containers and cutlery holders all in one place. With these options, your lunch box users will never miss anything for their meals.
For Sustainable Eaters: The Eco Lunch Box
A socially conscious environment also results in the rise of many foodies who want to eat responsibly - and containers are not exempted from this advocacy. While putting your lunch in reusable containers already lessens the consumption of single-use plastics, what if you can take sustainability up a notch by choosing materials that are both durable and eco-friendly?
Wheat straw fiber is a bioplastic that has been slowly gaining popularity as a eco-friendly version to petroleum-based plastics. Durable and food-safe, wheat straw fiber makes eating sustainably and in style, easy. You can choose from these bioplastic-based round or full-sized lunch boxes for all kinds of meals. Other lunch boxes also include wheat straw cutlery, enabling you to gift a completely sustainable meal solution.
For Snackers: The Flexible Lunch Box
Some like having big meals, while others prefer to keep it light. While most lunchbox options target the former, there are lots of munchers who take small meals and snacks on the go.
Delight these clientele by giving cute-sized lunch boxes which can also function as snack boxes, portion control packs for diet plans, or sampler containers for new products. Collapsible lunch boxes like this silicon lunch box or this compact circular snap seal lunch box make meal prep and transport practically effortless.
For Everyone Else: The Custom Lunch Box
Do your clients fit none of the lists above? You can consider getting a fully customisable lunch box. After all, a meal hits different when it's enjoyed your way.
Personalised Lunch Box in Singapore
Want to get unique personalised gifts to someone special or important? Get your hands on personalised gifts with us as we offer low customisation fee starting from a minimum order of 20pcs.
Where To Buy A Customised Lunch Box In Singapore?
An ideal corporate gift supplier in Singapore for your lunch boxes entails having cheap corporate gifts on hand, with options for gifts printing services to create customisable gifts. Discover over 500+ products like tote bags, games and toy, stationery and corporate gifts in Singapore.  
One Dollar Only fulfills all these and more. Bringing thousands of great door gift ideas in Singapore to life since 1996, One Dollar Only can bring your new lunch box gift ideas to your door step without burning a hole in your pocket.
Check out their other lunch box designs and see how much more a lunch box can be for you and your clients!