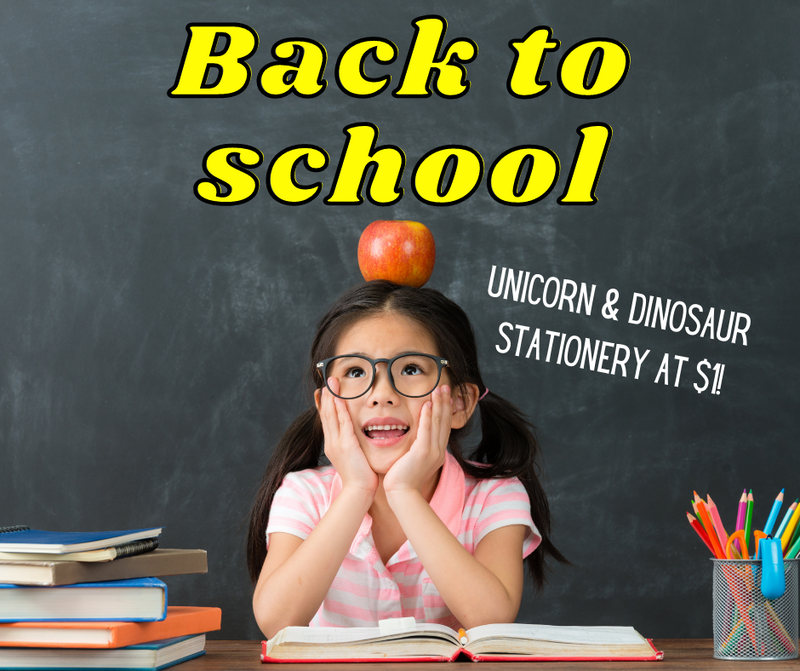 No more boring stationery! Cute Stationery from $1!
It's time to go school shopping as school reopens soon! The excitement of getting new back to school supplies still gets me as we all want to start the new school term with brand new items.
You may ask, "What do I need for back to school supplies?". We have categorised our products into themes for back to school supplies and covered all the basics, from cute stationery sets to lunch box and all that is in your back to school supplies list.
Keep on reading to see our back to school themed products like Unicorns, Dinosaur, Floral and many more!
For the Unicorn lovers
Secure your papers with this cute unicorn clipboard! Great for students to bring around during their school excursion trips as they fill up their worksheets on the go. Available in 4 different designs so you and your BFFs can match!
Notebooks are not just for note taking! I remember when I used to have a diary with my friends and we would always share our thoughts and secrets in it. Just make sure to keep it somewhere safe so no one gets their hands on it!
Let this cute unicorn accompany you as you are taking down notes or prepping hard for your exams! The fine pen tip makes your handwriting even prettier than before!
This Unicorn Case can be used for storing your hair accessories or as a pencil case. It can also be used for keeping your mask during recess.
For the Dinosaur lovers!
Just like all of the gel ink pen OneDollarOnly offers, the fine tip helps your handwriting to look neater. The smooth ink enables me to write for hours! A must have for the dinosaur lovers.
This cute cartoon dinosaur zip case is big enough to keep an abundance of stationery! Or you can even keep your calculators and notebooks in it for convenience sake.
Erase your mistakes when you are back to school with these dinosaur erasers! Bundle with the other Dinosaur stationery we have and gift it as a cute stationery gift set.
Keep track of the important exam dates and deadlines with this floral weekly planner. Look ahead to the next week and map out your days accordingly so you will never accidentally overlap plans!
If you prefer monthly planners, this is the one for you! With a quick overview of the month, it is perfect for school, work and personal use. Teachers can use it for their lesson plans while students can use it for school assignment dates.
Lunch Essentials
Back to school tip and tricks: Tend to feel restless by mid-afternoon? Refuel your energy with some snacks throughout the day! This is suitable for keeping your tidbits and snacks from going stale.
Keep your drinks at the right temperature with this double-walled wheat fibre bottle. Thanks to the double wall, there will be no condensation, keeping your bags and tables dry! These come in sweet pastel colours that matches your cute back to school stationery!
Not a fan of using the store's utensil? This lunchbox with cutlery set is convenient, hygienic and environmentally friendly!
To make homework easier
Every student has the same geometry set so why not get these pink or blue sets instead? Inclusive of ruler, dividers, protractor, set square, compass and T-square, mechanical pencil ruler and eraser.
Are you still measuring line by line when drawing models? Speed up your model drawing during math exam with this model drawing template!
A lightweight and portable whiteboard, making it convenient to bring around for classes. This is great for teachers to use when they require their students to answer questions. Students can use it for math working and school projects too!
DIY Back to School Supplies
Prefer crafting your own back to school supplies? Creating a bag from scratch may be a little tedious (and costly) so why not get a fun DIY kit instead! At only $1.50, you get a non woven bag and pack of markers to decorate!
For more Art and Craft / DIY project, click here.
Who has the best deals on back to school supplies in Singapore?
OneDollarOnly is the best store for school supplies, with deals from $1! With over 300 products, ranging from stationery to bags and cases, you will find everything you need for when school reopens.
Get your cute stationery before they are sold out! It's your time to shine in school!